Community
Our school is proud to have made links with and play a role in the wider Wickersley Community.
A Message from Pastor Wayne
My name is Wayne and I am Pastor of Wickersley Methodist Church. Before that I was Deputy Head Teacher at Herringthorpe Junior School for some 25 years.

I was delighted when the school contacted me asking if I would come into school to take an assembly. I, with my pastoral assistant Karen did just that. We had a lovely time and were made most welcome.
Since then we have shared both Harvest and Christmas Celebrations at Church where children, staff and parents have enjoyed time together.
Karen and I supported the year 5 class when teaching about the Bible.
A special and most memorable occasion was celebrating a Christingle service in school with the very young children, with real candles! It was very moving especially when the children sang a Christmas song.
Sadly, we have missed out on Easter celebrations and many assemblies due to the present pandemic. But this will pass and Karen and I are really looking forward to meeting up with you all again perhaps in a different and even more exciting way.
And so we wish you a very happy and safe summer holiday.
Bless you all – children, staff and parents.
Pastor Wayne and Karen from Wickersley Methodist Church.
The pupils in our school look forward to attending events at Wickersley Methodist Church, as well as assemblies at our school led by Pastor Wayne.
The Harvest Festival
We are proud to support Wickersley Methodist Church with their collection of food donations for the Harvest Festival.
This year, the generous donations of the families within our school were given to Furlong Road Foodbank.
The staff who work at the foodbank wrote to us to thank everybody who was able to support the collection:
"This is just a little note to say a very big thank you to you all for the bags and bags of food you so kindly donated to our food bank at Furlong Road. What a blessing it was to receive so much help and love for us to pass on to our people and families in need. We at Furlong Road foodbank share and help so many people who without the help of foodbanks may have very little or maybe nothing. Things are very hard for some families and the lovely gifts of food you sent will help and fill many tummies and put smiles on lots of faces. You are all so very special."
We are very proud to be able to support our community in this way.
Christmas
The pupils in Year 6 look forward to visiting Wickersley Methodist Church at Christmas time to learn more about teachings from the Bible, to reflect and to join together to sing Christmas carols.

Please click here to access Newsletters from the Wickersley Parish Council.
Charity Fundraising
We are proud to support local charities in events throughout the school year. Thanks to the generosity of the families at Wickersley Northfield, we were able to raise a fantastic £610.94 for the Rotherham Hospice by completing a whole school Santa Dash.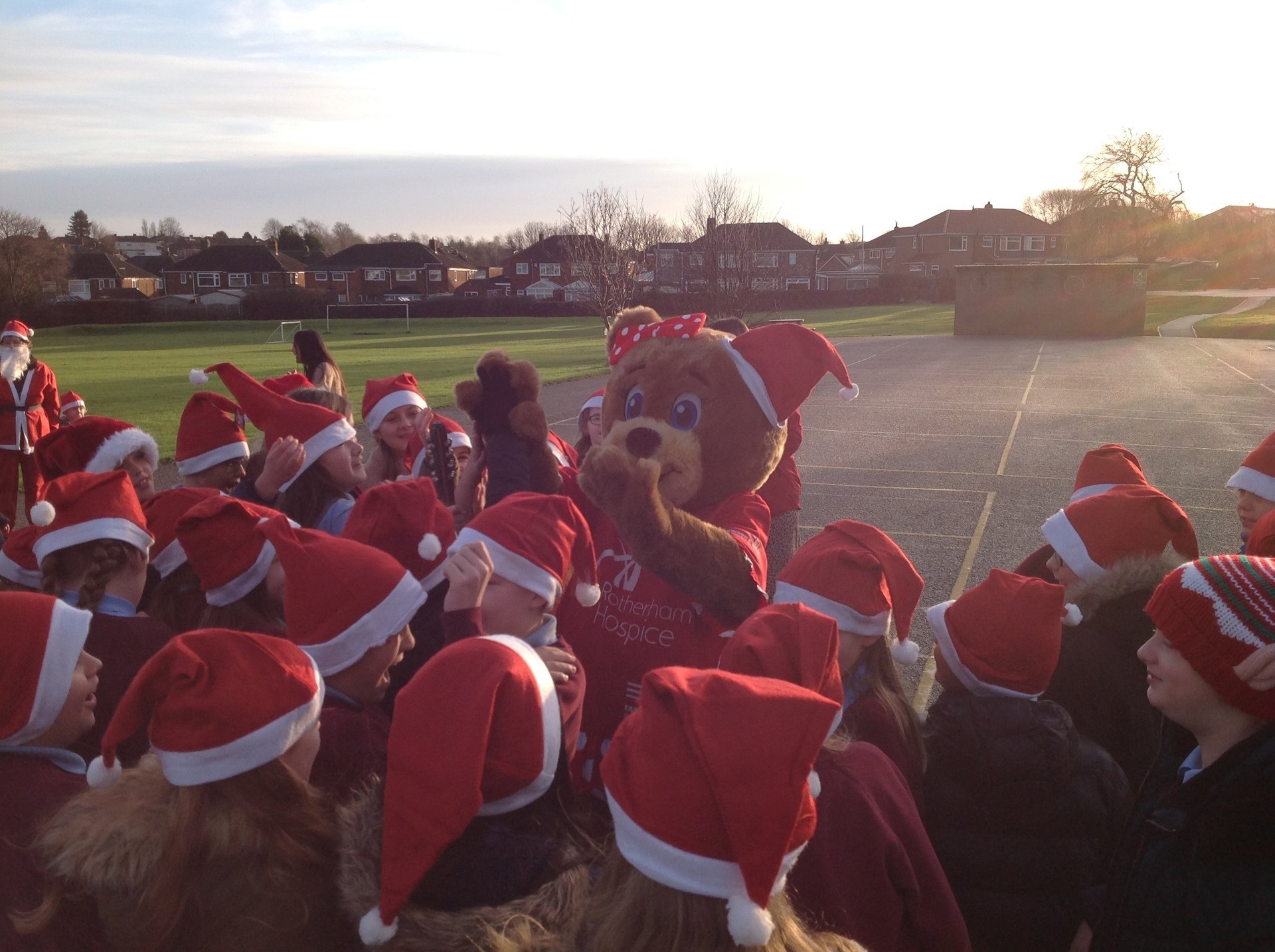 In March this year, our school held a Sponsored Bounce to raise as much money as we could for the Sick Children's Trust. We raised a fantastic £1096.65 for the charity which carries out fantastic work in our wider community.