Reading at Wickersley Northfield Primary
Intent
Reading is an essential part of our curriculum at Wickersley Northfield Primary and our aspiration is for every child to be able to read fluently and enjoy reading.
From the very outset, we place huge emphasis on ensuring every child masters the early reading skills and is able to decode fluently through the systematic teaching of our Read Write Inc. programme. Children with effective phonics, word reading and comprehension skills will then go on to become fluent readers.
We aim to provide a wide range of reading experiences and opportunities for children to explore a wealth of different books and develop a love for reading throughout.
Click here for our Reading rationale document outlining our current reading provision
Breadth of study: National Curriculum for Reading
Key Stage 1:
Listen to traditional tales.
Listen to a range of texts.
Learn some poems by heart.
Become familiar with a wide range of texts of different lengths.
Discuss books.
Build up a repertoire of poems to recite.
Use the class and school libraries.
Listen to short novels over time.
Breadth of study: National Curriculum for Reading
Key Stage 2:
Read and listen to a wide range of styles of text, including fairy stories, myths and legends.
Listen to and discuss a wide range of texts.
Learn poetry by heart.
Increase familiarity with a wide range of books, including myths and legends, traditional stories, modern fiction, classic British fiction and books from other cultures.
Take part in conversations about books.
Learn a wide range of poetry by heart.
Use the school and community libraries.
Look at classification systems.
Look at books with a different alphabet to English.
Read and listen to whole books.
AUTHOR: PETER J mURRAY VISITS WICKERSLEY NORTHFIELD
Local author, Peter J Murray visited Wickersley Northfield on 26th January 2022. Peter shared his fantastic book series, Mokee Joe, with the KS2 pupils!
The pupils had a wonderful time and were enthralled by the story!
Click here to read Peter's blog post about the day.
"Well, Wickersley Northfield Primary…you certainly proved one thing to us. We don't need to travel far from our doorstep to find a real 'Reading School'! We will be back! You can count on that!" PJM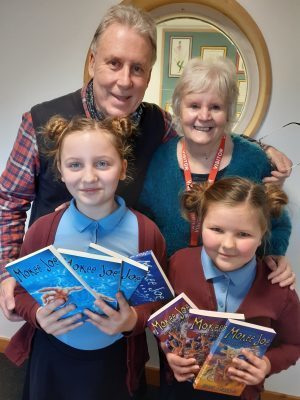 Eve and May with Molly hairstyles!
Today is National Poetry Day!
Thursday 7th October 2021, is National Poetry day.
Today, we will spend time enjoying, discovering and sharing poetry as a school. Here's the link to the official website where there's ideas and example poems to share based around the theme which is 'Choice' this year.
https://nationalpoetryday.co.uk/celebrate-national-poetry-day/
Rashford is Reading!
The footballer, Marcus Rashford, wants all children to experience that wonderful feeling of curling up with a book that transports you to another world. He is setting up his own book club to promote reading. He asked teachers across the country to name their top books for children. Here's the top 10! Have many have you read?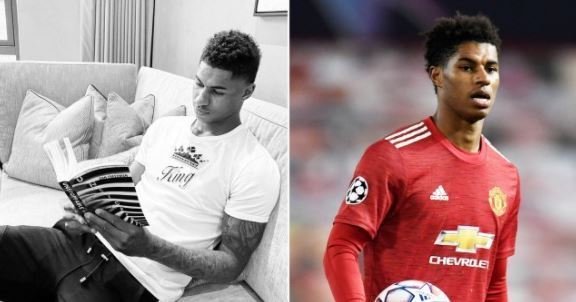 Top 10 reads recommended by teachers:
Holes, Louis Sachar
The Wind in the Willows, Kenneth Grahame
Unstoppable, Dan Freedman
Noughts and Crosses, Malorie Blackman
Diary of a Killer Cat. Anne Fine
Fantastic Mr Fox, Roald Dahl
The Worst Witch, Jill Murphy
The Butterfly Lion, Michael Murpurgo
The Lives of Christopher Chant, Diana Wynn Jones
The Secret Garden, Frances Hodgson Burnett
March sees the return of some real children's favourites with new books from The Last Bear author Hannah Gold and Benjamin Dean, author of Me, My Dad and the End of the Rainbow. Young Adult sees spellbinding debuts from Ayana Gray and Aneesa Marufu whilst stunning picture books come courtesy of Tom Percival, Joe Todd-Stanton and Pamela Butchart.
Waterstones' Children's Book of the Month
June 2022 - ONYeka and the academy of the sun by Tola OKOgwu
PREVIOUS BOOKS OF THE MONTH
March 2022
A heartwarming story about family, friendship and finding your inner fire.
Between bullies at school and changes at home, Charlie Challinor finds life a bit scary. And when he's made guardian of a furry fox cub called Cadno, things get a whole lot scarier.
Because Cadno isn't just any fox: he's a firefox - the only one of his kind - and a sinister hunter from another world is on his trail.
Swept up into an unexpected adventure to protect his flammable friend, Charlie's going to need to find the bravery he never thought he had, if he's going to save the last firefox...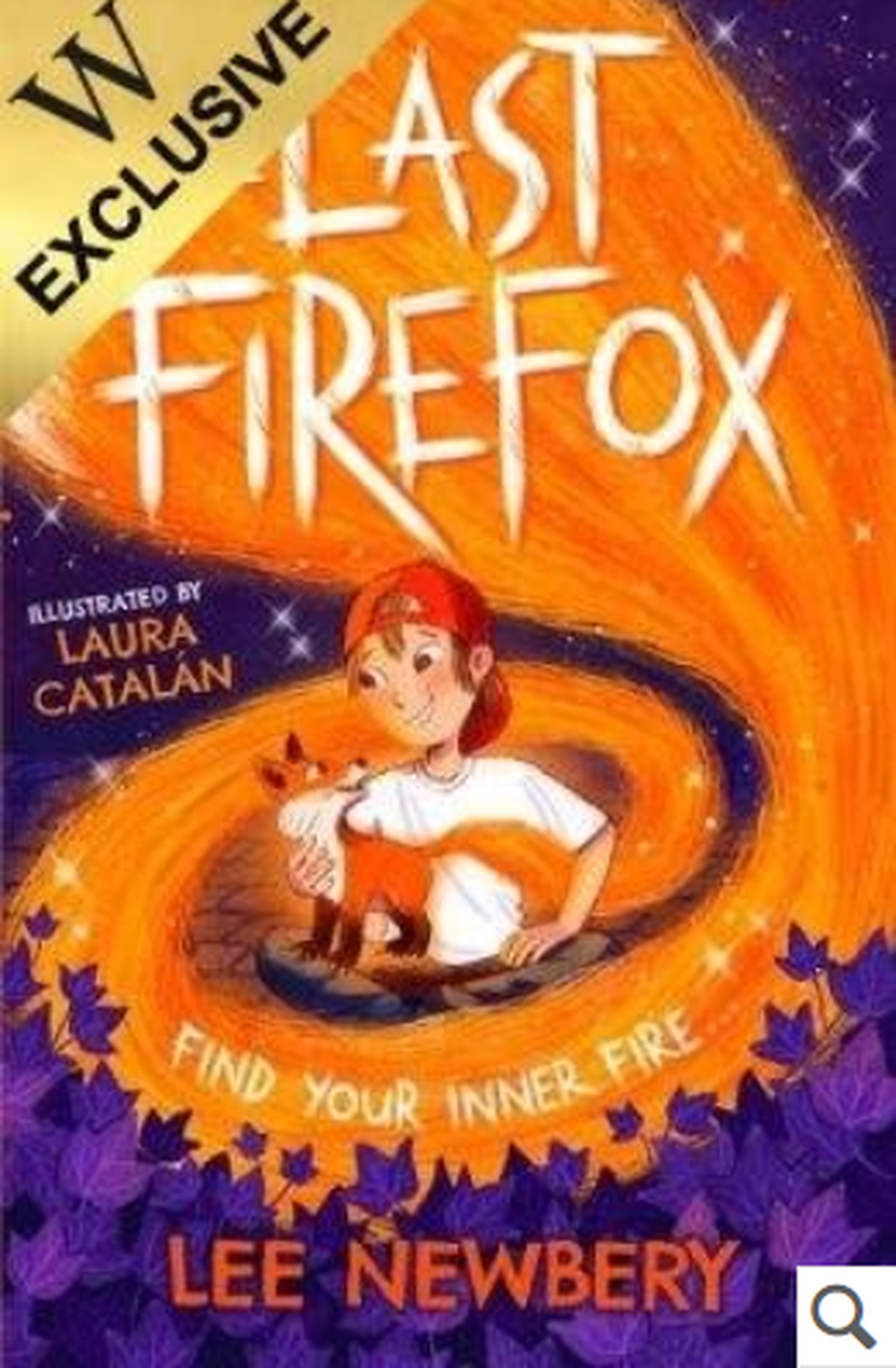 February 2022
Rivals on the track by Annelise gray
Dido is the only girl ever to have raced to victory at the Circus Maximus, Rome's greatest sporting arena. Now she and her beloved horse, Porcellus, are in hiding, and the Emperor Caligula has put a price on their heads.
Can she outwit the emperor and his bounty hunters? And will a shocking family secret stop her in her tracks, or spur her on to make a daring return, helped by a one-eyed mare with a heart as brave as her own?
Horses, history, mystery, thrilling entertainment and sensational storytelling race neck and neck through the second pulse-pounding adventure in Annelise Gray's 9+ series set in Ancient Rome.


Essential Characteristics of Reading:
Excellent phonic knowledge and skills.
Fluency and accuracy in reading across a wide range of contexts throughout the curriculum.
Knowledge of an extensive and rich vocabulary.
An excellent comprehension of texts.
The motivation to read for both study and for pleasure.
Extensive knowledge through having read a rich and varied range of texts
Threshold Concepts for Reading:
Read words accurately - This concept involves decoding and fluency
Understanding texts - This concept involves understanding both the literal and more subtle nuances of texts.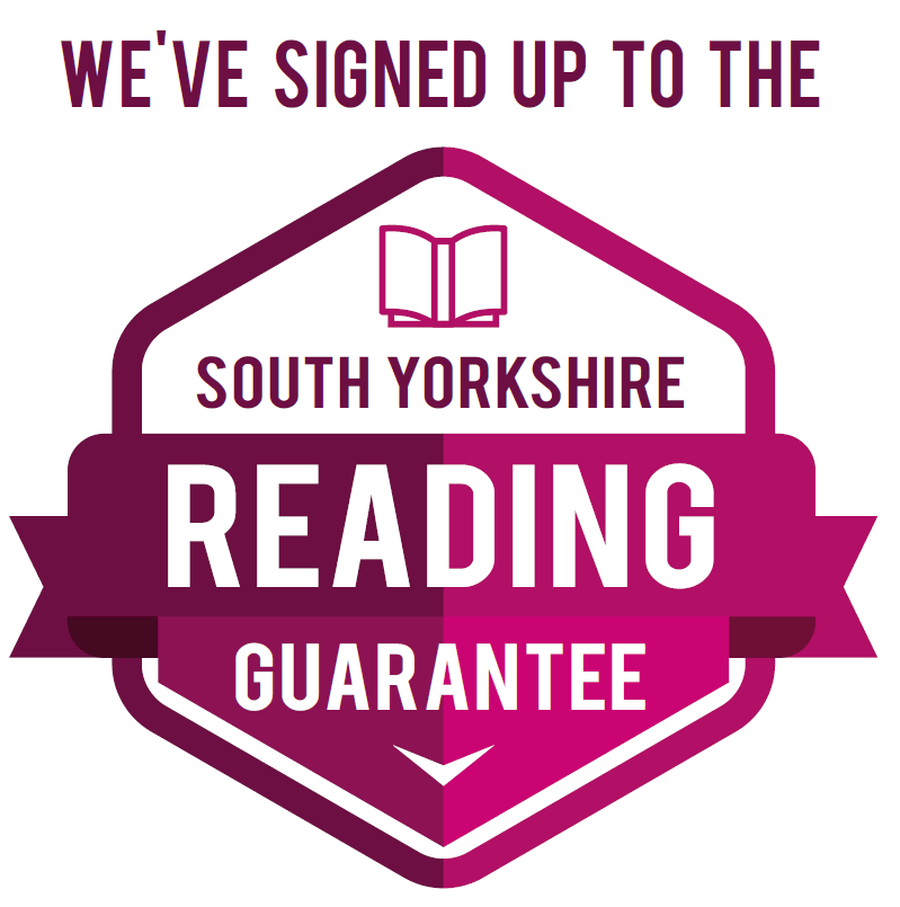 Reading Ambassadors
Say hello to our new Reading Ambassadors!
| | | |
| --- | --- | --- |
| | | |
| | | |
| | | |
| | | |
These children have been selected for their 'love of reading'. Our ambassadors will be encouraging and promoting reading for pleasure throughout school. This will include reviewing new books, contributing to reading areas/displays around school and supporting our upcoming 'Book Week' in March. They are looking forward to sharing their enjoyment of reading with everyone.

Watch this space for more details!
Recommended by our Reading Ambassadors
"I love the 'The Treehouse Books' and have read the three that we already have." Harley
"I have a suggestion for a book that would be suitable for Y5 to Y6 and it is called 'Pax' I have read it and it is very good! I have also read 'The Hunger Games' and 'The Dark is Rising'. I think 'The Hunger Games' would be suitable for Y6 - possibly Y5 and 'The Dark is Rising' series for Y4 to Y6" - Amber
"Lots of my friends enjoy reading the 'Barry Loser' books. When we do Book Talk, a lot of people say that 'Barry loser' is really funny! I also recently read the book, 'The Highland Falcon Thief'. I really enjoyed this particularly because it makes you think about who the thief is and it's very enjoyable because of all the different personalities in the book." - Eve
"I have recently added 'Holes' to my reading recommendation basket and I have also added a book by Pamela Butchart and 'A Diary Of A Wimpy Kid' book in there. So far I'm really enjoying 'Cogheart'. I'm really drawn to the book and I enjoy the part about Lily and her classes (in chapter 1)" - Roxy
"I have recently read a book by Michael Morpurgo called 'Outlaw'. It is very good and is suitable for y4 to y6." - Jacob
"I love the book called 'The Attack of the Demon Dinner Ladies' as it's really cool and so funny." - Brooke
"One of my favourites is 'Mokee Joe Is Coming" Ethan
"I really liked the book 'Boy In The Tower' by Polly-Ho-Yen' I would recommend it to other classes." Louis
The Perfect Winter Picture Book
Have you read 'Where Snow Angels Go' by Maggie O'Farrell? Let your class know what you thought of it!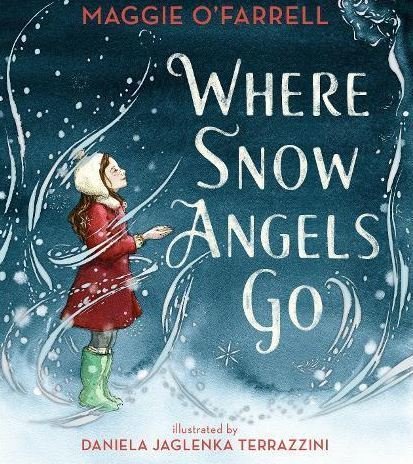 Reading in Our School
Take a look at the gallery below. We are always updating and adding to our reading areas within school.
My Book Blog
Pupils in KS2 love using My Book Blog to blog about their latest read.
Bug Club
We use our chromebooks and iPads to enjoy reading Bug Club books online.
The Best Books of 2020: Children's Fiction
Rowling, Walliams, Fletcher - and many more; this year has seen the big hitters of children's fiction really deliver. Bestselling series upped the ante on excitement and adventure with fresh instalments of Nevermoor, The Wizards of Once and Starfell, whilst we enjoyed another gritty mystery with NSquared in Sharna Jackson's Mic Drop and chuckled along to more hilarious Wimpy Kid high jinks. With terrific debuts from Elle McNicoll, Simon Farnaby and Nizrana Farook amongst many others, the future for children's fiction is looking very bright indeed.